Chicago: Meter Maid Arrested for Ticketing Cop
This entry was posted on 5/29/2006 7:12 PM and is filed under unbelievable,Weird,news.
Meter maid arrested for refusing to void a parking ticket given to a Chicago, Illinois police officer.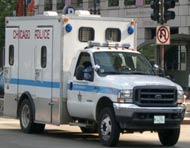 Meter maid Jackie Fegan, 40, was arrested for refusing to void a ticket issued to Chicago, Illinois police officer Robert Reid on May 18. Reid had illegally parked his personal white minivan at 700 N. Michigan, claiming he was on "police business."
After seeing the ticket, Reid flagged down Fegan and insisted she tear up the ticket. Fegan refused. When she walked away across the street, she was arrested for jaywalking. She was handcuffed and taken into custody at the Near North District police station.
"They were hurting me. They wouldn't stop," Fegan told the Chicago Sun-Times. "It's unreal. One minute I'm working, and the next minute I'm being hauled off and hurt and thrown into a paddy wagon. He was very, very violent."
Fegan was not charged with any crime and was released after thirty minutes. She plans to sue the city for false arrest.

Source: Roughed up by cop, parking ticket aide says (Chicago Sun-Times, 5/27/2006)